PENGARUH PENAMBAHAN SERAT SERABUT KELAPA TERHADAP KUAT TEKAN BETON
Keywords:
Normal concrete, Coconut fiber, Concrete compressive strength
Abstract
One of the main elements in the construction is concrete. The basic ingredients of concrete are a mixture of cement, water, fine aggregate and coarse aggregate, while concrete that uses steel reinforcement is called reinforced concrete. The development of this era of rapid globalization has resulted in the continued increase in the number of used goods/waste whose existence can be a problem for life. , one of which is the presence of coconut fiber waste. in order to recycle in order to overcome the presence of this waste. One of them is by utilizing the waste for concrete technological purposes.
In this study, coconut fiber was used as a partial replacement of cement in normal concrete mixtures. The variation of replacing coconut fiber from cement in normal concrete to determine the value of compressive strength is expected to improve the quality of concrete in the form of compressive strength. The variations in the replacement of coconut fiber used were 0%, 0.15%, 0.30%, 0.45% and the tests carried out were in the form of compressive strength. From the test results obtained a decrease in slump, After going through the research process to get the results of the concrete compressive strength 28 days, normal concrete (BN) without coconut fiber is 22.24 MPa, coconut fiber concrete variation 0.15% is 21.11 MPa and has decreased from normal concrete (5.08%) and concrete using coconut fiber variation 0.30% of 20.83MPa and variation of 0.45% of 19.89Mpa and decreased by (6.33%) for variation 0.30% and (10.56%) for a variation of 0.45%.
Downloads
Download data is not yet available.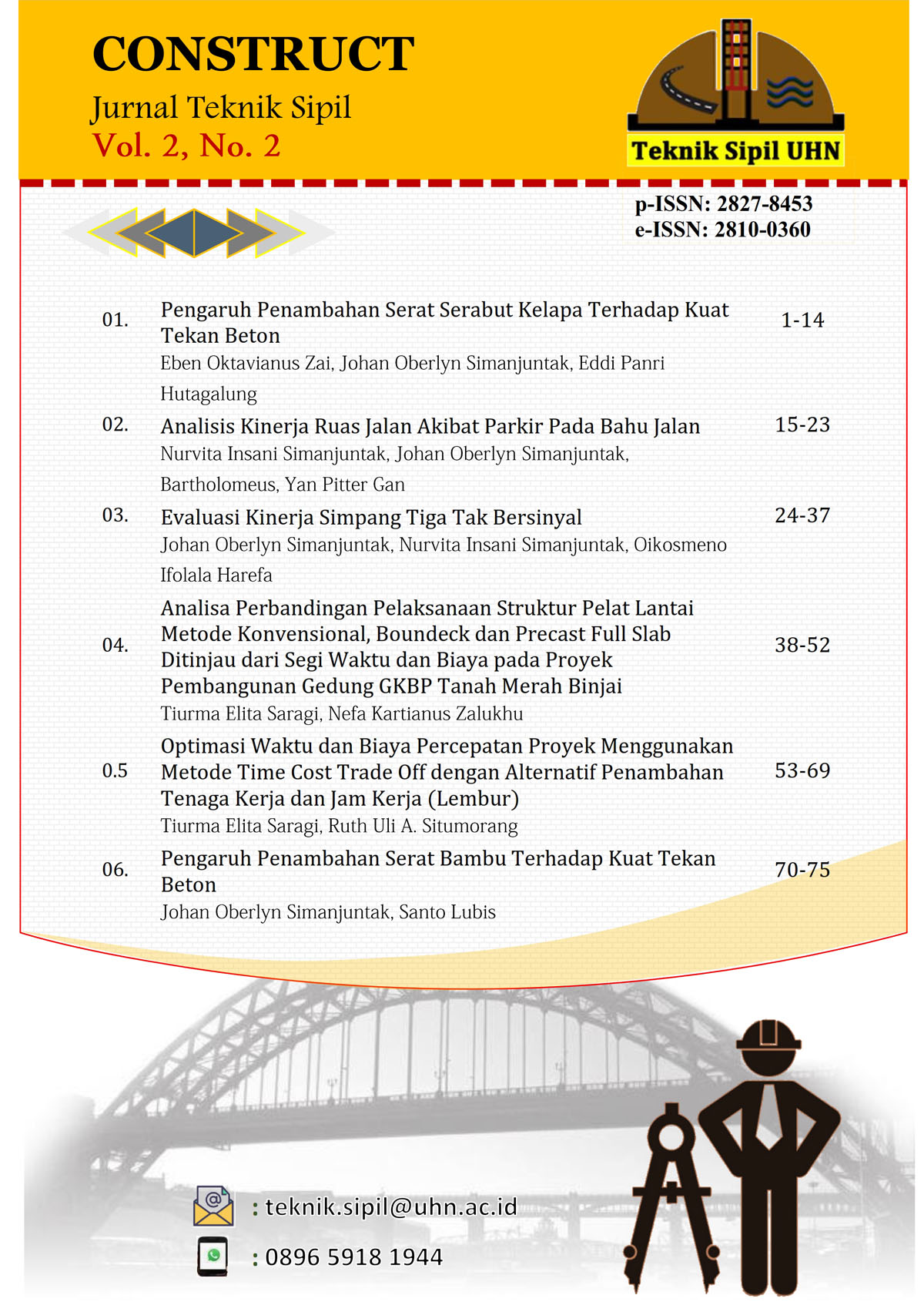 Published
2022-05-19 — Updated on 2022-05-19