Learning Process and Exam Papers: Have They Met The Criteria of 21st Century Learning?
Keywords:
21st century skills,, exam papers,, higher order thinking skills
Abstract
This study aims to explore the importance of high-level thinking skills or critical thinking as the main skill needed in the 21st century, the roles and challenges faced by teachers/lecturers in teaching millennial students especially in the faculty of teachers training and education. The data in this study was exam papers and learning methods in each course from semester one to semester three. Documentary analysis was applied to describe the types of test items in the exam papers and some sampling subjects were observed. The results of this study indicated that the learning model and process did not match to the necessity in the 21st century. It was also found that some questions type in exam papers were mostly asking low-level thinking skills to be. It is suggested that the interactive learning process and the combination of lower-level, medium level, and high level thinking skills in the exam papers be applied since those proper combination are influential to improve students' high-level thinking skills, so that the learning model and type of test items on the exam papers can meet the 21st century learning criterion standards that have previously been left behind. In other words, through these two ways, it is expected to be able to help students develop their high-level thinking skills.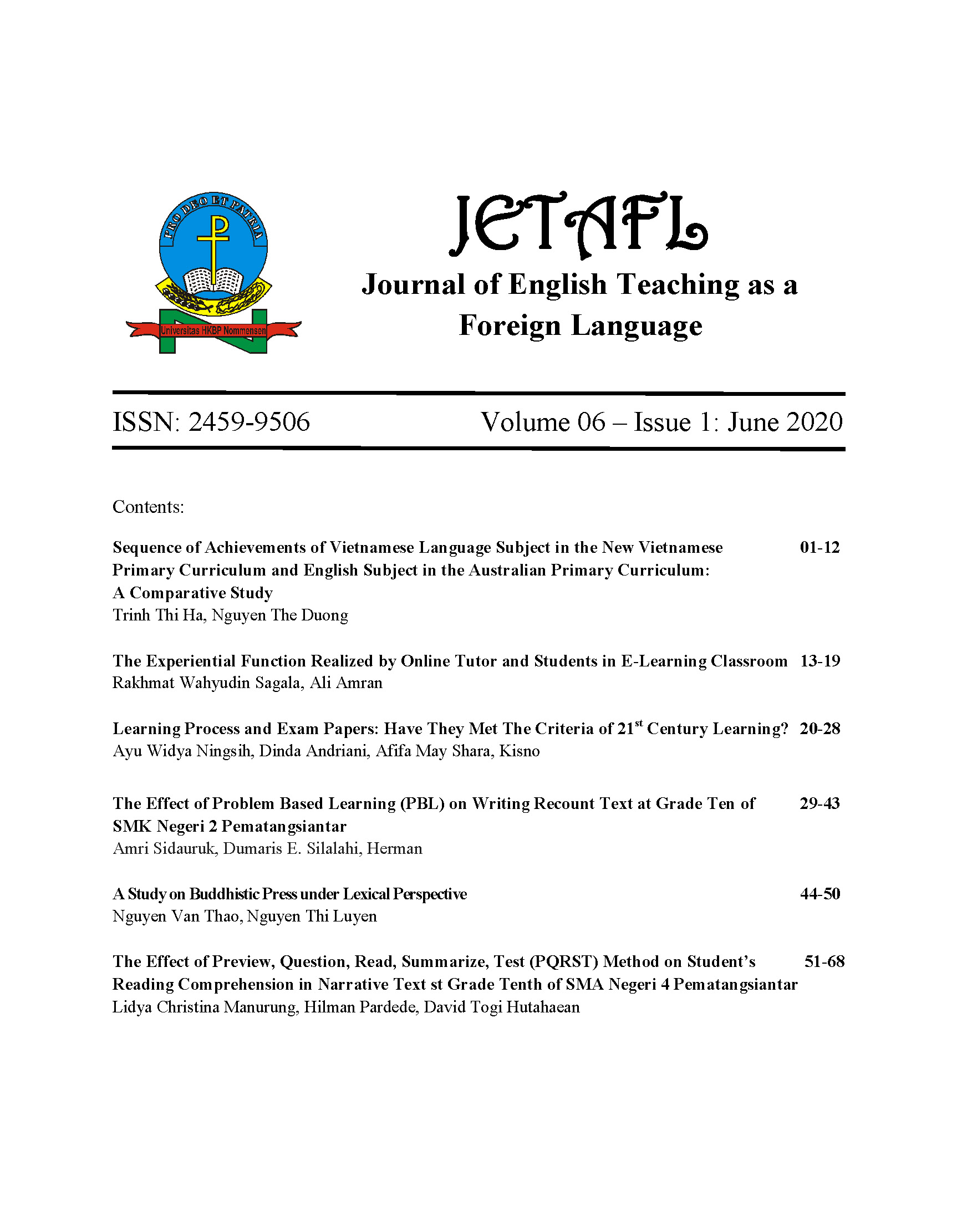 How to Cite
Ayu Widya Ningsih, Dinda Andriani, Afifa May Shara, & Kisno. (2020). Learning Process and Exam Papers: Have They Met The Criteria of 21st Century Learning?. Journal of English Teaching As a Foreign Language, 6(1), 20-28. Retrieved from https://ejournal.uhn.ac.id/index.php/jetafl/article/view/108