Emoticon and Sticker Interference Expressed in WhatsApp Group Interaction
Keywords:
emoticon,, sticker,, interference,, WhatsApp,, interaction
Abstract
This study focuses on analyzing phenomena of emoticon and sticker existing to represent the facial expression which must be involved in face to face communication in order to succeed the message convey. This study is supposed to be able to know deeply how the analysis of emoticon and sticker used in messaging via WhatsApp is. The method applied in this study was qualitative research design. The data were acquired from the text of "put respek on G's" WhatsApp group and "e-house toefl discussion". The research finding is about the existence of implicit meaning tried to transfer by the users, however the implicit meaning is well-understood in order the receivers understand well about the meaning of the communication. All of the samples are able to reveal the implicit meaning involved in emoticon and sticker in WhatsApp text, therefore, it minimizes the misunderstanding of a communication. The data showed that the gender of emoticon and sticker users is both masculine and feminine. The emoticon and sticker use is also able to enrich the language features. Moreover, the option of the emoticon and sticker is in big number so that it can facilitate the users to choose which emoticon and sticker they want to use.
Downloads
Download data is not yet available.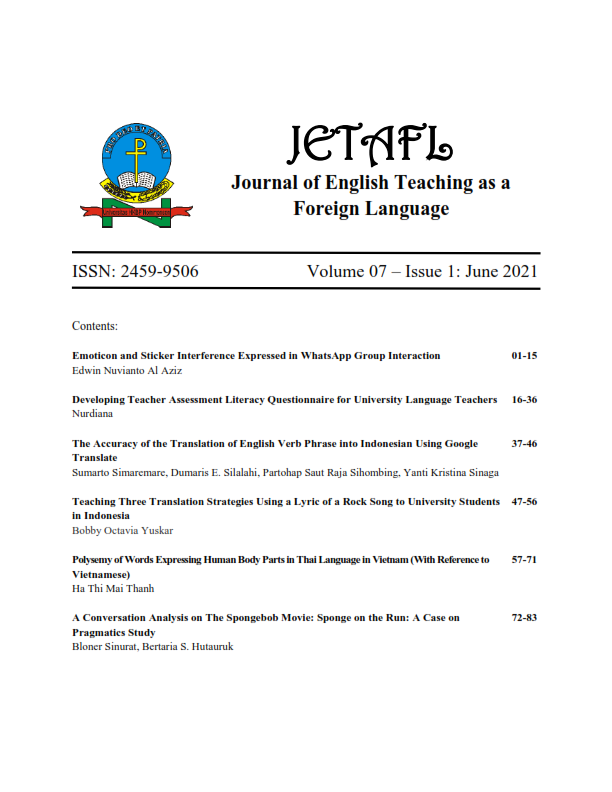 How to Cite
Edwin Nuvianto Al Azis. (2021). Emoticon and Sticker Interference Expressed in WhatsApp Group Interaction. Journal of English Teaching As a Foreign Language, 7(1), 1-15. Retrieved from https://ejournal.uhn.ac.id/index.php/jetafl/article/view/309