Developing Teacher Assessment Literacy Questionnaire for University Language Teachers
Keywords:
Language Teacher Assessment Literacy, Language Teacher Assessment, Literacy Questionnaire
Abstract
Language teacher professional development thus far has been focusing on how to  teach language learners effectively. Other than improving teaching techniques, they are supposed to enhance their assessment literacy. This is due to the findings of earlier studies on teacher assessment literacy indicating that many teachers are assessment illiterate. Language teachers should be assessment literate as it can help learners improve their language learning by being able to assess their students appropriately and effectively. To investigate language teacher assessment literacy, an instrument called language teacher literacy questionnaire needs to be developed. For this reason, the present study attempts to propose dimensions or indicators and proposition of the questionnaire for university language teachers. Having been developed, the indicators and the propositions were evaluated by 20 university language teachers who have at least five years of teaching experience of teaching a (foreign) language at the tertiary level. They provided feedback or comments on the proposed questionnaire then they were discussed in this research. Results of this study revealed that it was not an easy assignment to determine the indicators of the questionnaire and the construction of the propositions/items was timeconsuming.
The feedback varied greatly starting from the statement 'the items were good already' to 'complaining about the instruction of completing the questionnaire'. Implicitly, the respondents might not be assessment literate in terms of knowledge of assessment and the questionnaire devised needs a lot of improvement.
Downloads
Download data is not yet available.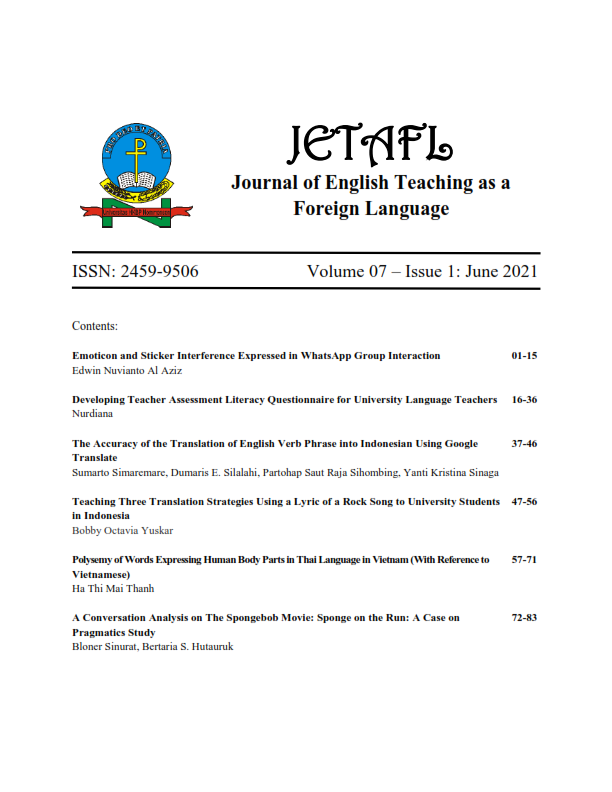 How to Cite
Nurdiana. (2021). Developing Teacher Assessment Literacy Questionnaire for University Language Teachers . Journal of English Teaching As a Foreign Language, 7(1), 16-36. Retrieved from https://ejournal.uhn.ac.id/index.php/jetafl/article/view/310