Polysemy of Words Expressing Human Body Parts in Thai Language in Vietnam (With Reference to Vietnamese)
Keywords:
Body parts, polysemy, Thai language, semantic transformation
Abstract
The paper uses theories on word meaning in the system, the transformation of word meaning, and polysemy. To aid analysis, this paper applies methods of field research methods of linguistics and description so as to construct significative meaning structures of words expressing human body parts (HBPs) in the Thai language, thus identifying the semantemes chosen to be the basis for the transformation. As sources of data, this study surveys Thai rhymes, fairy tales, riddles, and riddle songs. As for linguistic data of daily speeches, the data used in the paper is limited within the Thai Den language in the city of Son La, Son La province. Basing on the survey, in the paper, the researcher focuses on studying the polysemy of words expressing HBPs in the upper part, the middle part, and the four limbs. The meaning transference of words expressing HBPs in the Thai language is deep and contains multilayers. In the Thai language, there are 21 scopes of semantic transformation. The polysemy of words expressing HBPs in the four limbs is not as abundant in semantic change as in the upper part. However, words expressing HBPs in the middle part are deeper and more multifaceted than the ones in the upper part.
Downloads
Download data is not yet available.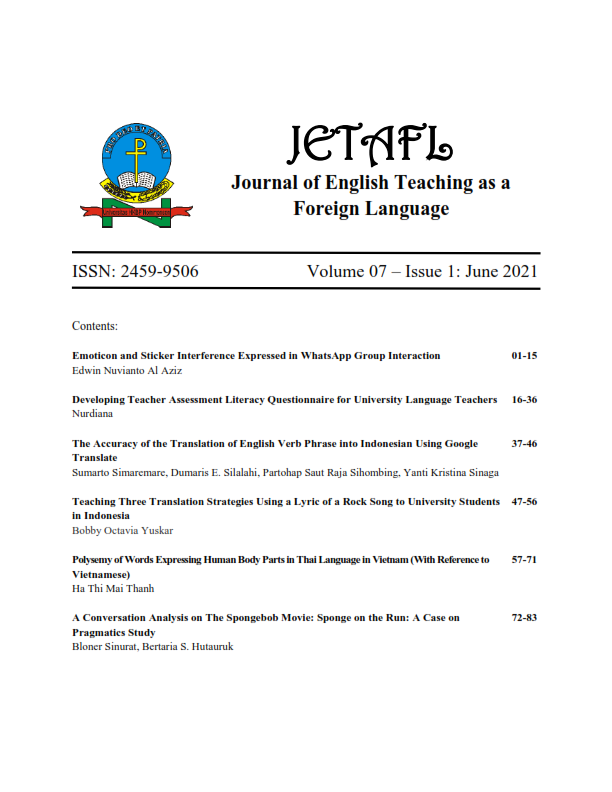 How to Cite
Ha Thi Mai Thanh. (2021). Polysemy of Words Expressing Human Body Parts in Thai Language in Vietnam (With Reference to Vietnamese). Journal of English Teaching As a Foreign Language, 7(1), 57-71. Retrieved from https://ejournal.uhn.ac.id/index.php/jetafl/article/view/319