BETON BERMUTU DAN RAMAH LINGKUNGAN DENGAN ABU SEKAM PADI
Keywords:
Concrete Quality, Eco Friendly, Rice Husk Ash, Concrete Compressive Strength
Abstract
Concete is one of the construction materials used with a need that continues to increase every year based on concete-forming materils, especially cement, which has experienced a fairly large increase. Based on this, many studies have been carried out to reduce the need for cement using silica-containing materials, one of which is husk ash.Rice husk ash is produced from burning rice husk which contains silica. With these properties when mixed into the concrete mixture will improve the characteristics of the concrete. This study aims to determine the compressive strength of conrete achieved form a mixture of rice husk ash in concrete. The specimens made for each addition of the percentage of huck ash were 12 samples, with a cylindrical mold size of 15 cm in diameter and 30 cm in height. Variations of rice husk ash used were 3%, 6%, 9% of amount of cement. The type of test was carried out in the form the compressive strength of concrete and observations were made at the age of 7,14,21 28 days. Form the results of the study it was found that the increase in the compressive strength of conrete from the waste of adding rice husk ash as an additive to cement to creste quality and environmentally friendly concrete.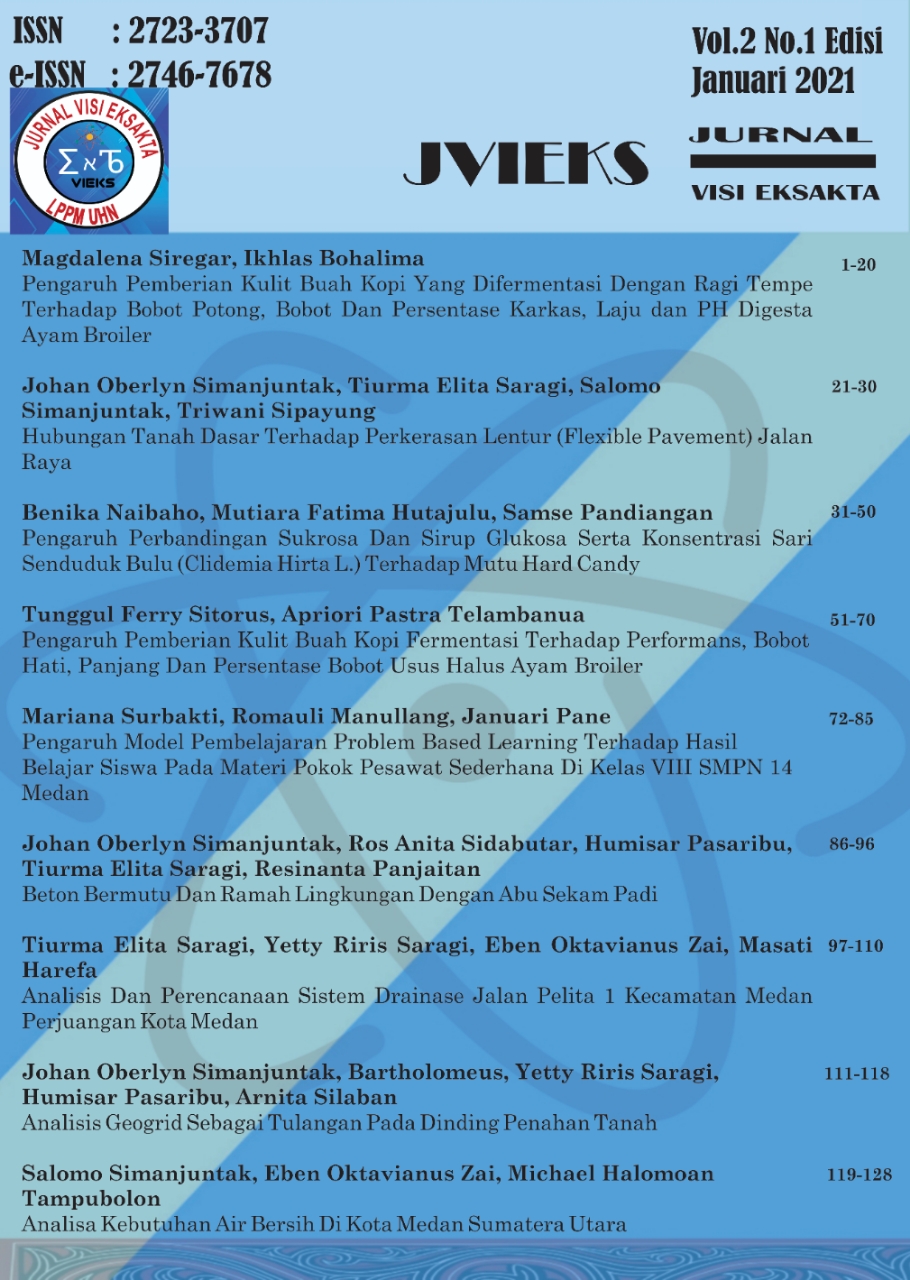 How to Cite
Simanjuntak, J. O., Sidabutar, R. A. ., Pasaribu, H. ., Saragi, T. E. ., & Panjaitan, R. . (2021). BETON BERMUTU DAN RAMAH LINGKUNGAN DENGAN ABU SEKAM PADI. Jurnal Visi Eksakta, 2(1), 86-96. Retrieved from https://ejournal.uhn.ac.id/index.php/eksakta/article/view/370