BETON BERMUTU DAN RAMAH LINGKUNGAN DENGAN MEMANFAATKAN LIMBAH TONGKOL JAGUNG (Penelitian Laboratorium)
Keywords:
Concrete,, Environmentally Friendly,, Cement, Fine Aggregate ,, Compressive Strength.
Abstract
The need for housing is more higher along with the times and this is also a factor to increasing for concrete needed for building  development. The more concrete that is produced, the more cement is needed for construction.Concrete is a composite material (mixture) of several materials, the main ingredient which consists of a mixture of cement, fine aggregate, coarse aggregate, water and or without other additives with a certain ratio.
Utilization of waste carried out in this study is to utilize corn cobs waste which is commonly found in the outskirts of the city of Medan. By utilizing this waste, it is hoped that it can reduce the accumulation of corn agricultural waste and also increase public insight about how to treat corn cobs waste into other forms. In this study, a concrete trial was carried out by adding corn cobs ash waste to concrete which aims to find out whether corn cobs ash can increase the compressive strength of concrete with variations in the percentage of the mixture of 0%, 3%, 6%, and 9% of the cement weight.
The compressive strength value of normal concrete (25.45MPa), while with the substitution of corn cob ash 3% (21.96 MPa), 6% (18.56MPa), and 9% (16.45MPa). So it can be concluded that the resulting compressive strength exceeds the planned compressive strength and the optimum substitution value of corn cobs varian is at the 3% variant, namely 21.96 MPa.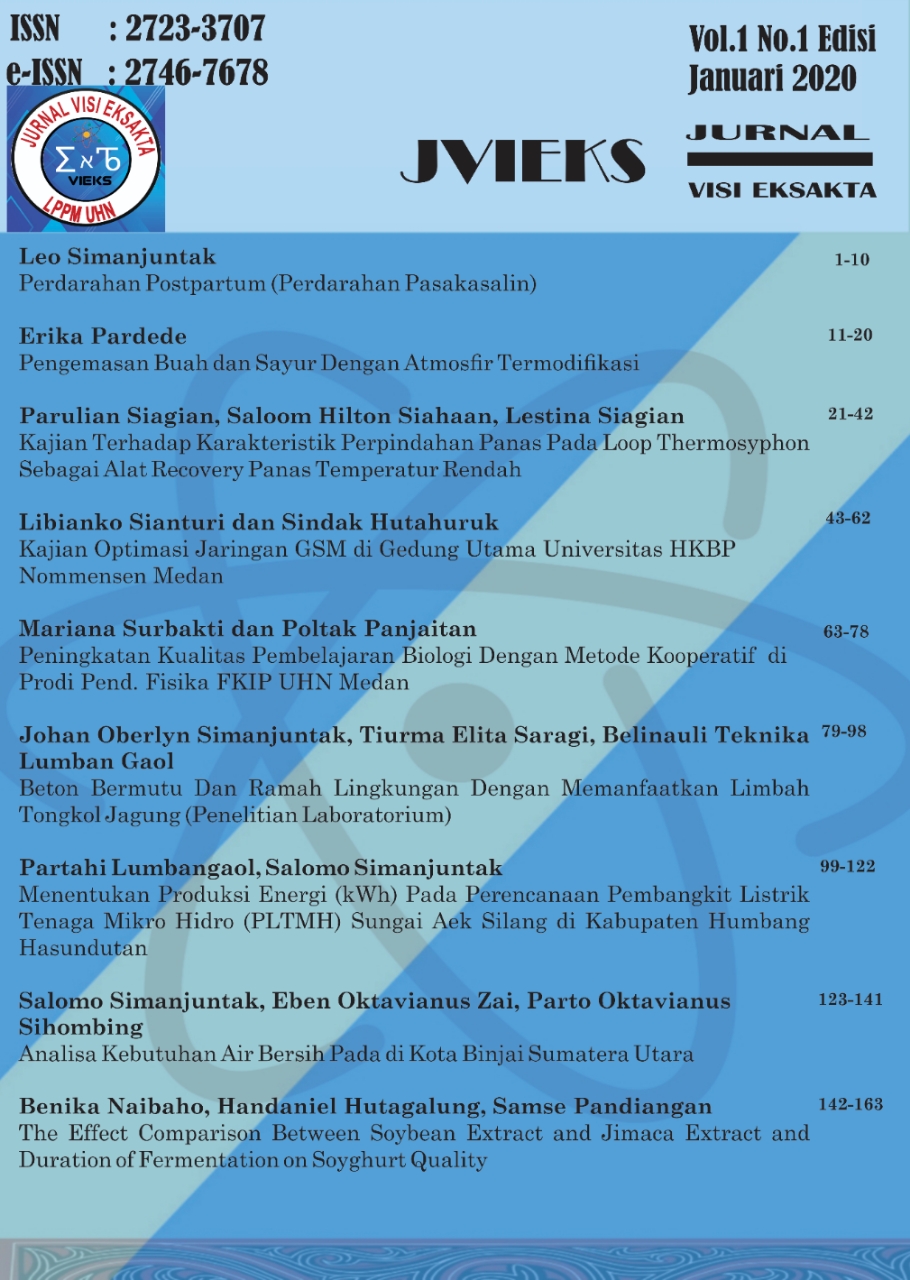 How to Cite
Simanjuntak, J. O., Saragi, T. E. ., & Lumban Gaol, B. T. . (2020). BETON BERMUTU DAN RAMAH LINGKUNGAN DENGAN MEMANFAATKAN LIMBAH TONGKOL JAGUNG (Penelitian Laboratorium). Jurnal Visi Eksakta, 1(1), 79-98. https://doi.org/10.51622/eksakta.v1i1.53