PENEGAKAN HUKUM DI INDONESIA DALAM RANGKA TATA KELOLA PEMERINTAHAN YANG LEBIH BAIK MENUJU 100 TAHUN KEMERDEKAAN INDONESIA (2045)
Keywords:
Zoning, Stakeholders, Good and Clean Governance, Morals, Four Pillars
Abstract
President of the Republic of Indonesia, Joko Widodo said that, based on a number of calculations, Indonesia would perch as one of the five countries with the strongest economy in the world in 2045, when it entered Indonesia 100 years with millennial generation at the peak age of 40-51 years, and this is a productive age. Indonesia has the potential to be shared. 263 million population, who live on more than 17,000 islands consisting of 34 provinces and 514 cities / districts. This community is plural and part of 714 tribes with 1,100 more local languages. Although the majority of the population adheres to Islam, there are many residents of other religions too. No less important to note, that the implementation of decentralization in Indonesia shows the fate and quality of 2/3 (two thirds) of the citizens' lives, in practice, is largely determined by local government performance of services, ranging from environmental sanitation
issues, such as waste management, school quality and health services. Everything depends on the high-low of public services quality in the area. The economic development in Indonesia, especially the legal matters, there is something that needs to be considered, that the law in Indonesia more
towards criminal sanctions against companies, thus carrying the image that, if you want to be an entrepreneur, be prepared to be in prison. And this give opportunities for the officials trap in the abusement of power. A series of datas, regional officials arrested, 24 governors and 115 regents /
mayors by the Corruption Eradication Commission (KPK) in 2004-2019. The majority of cases are related to bribery and gratification.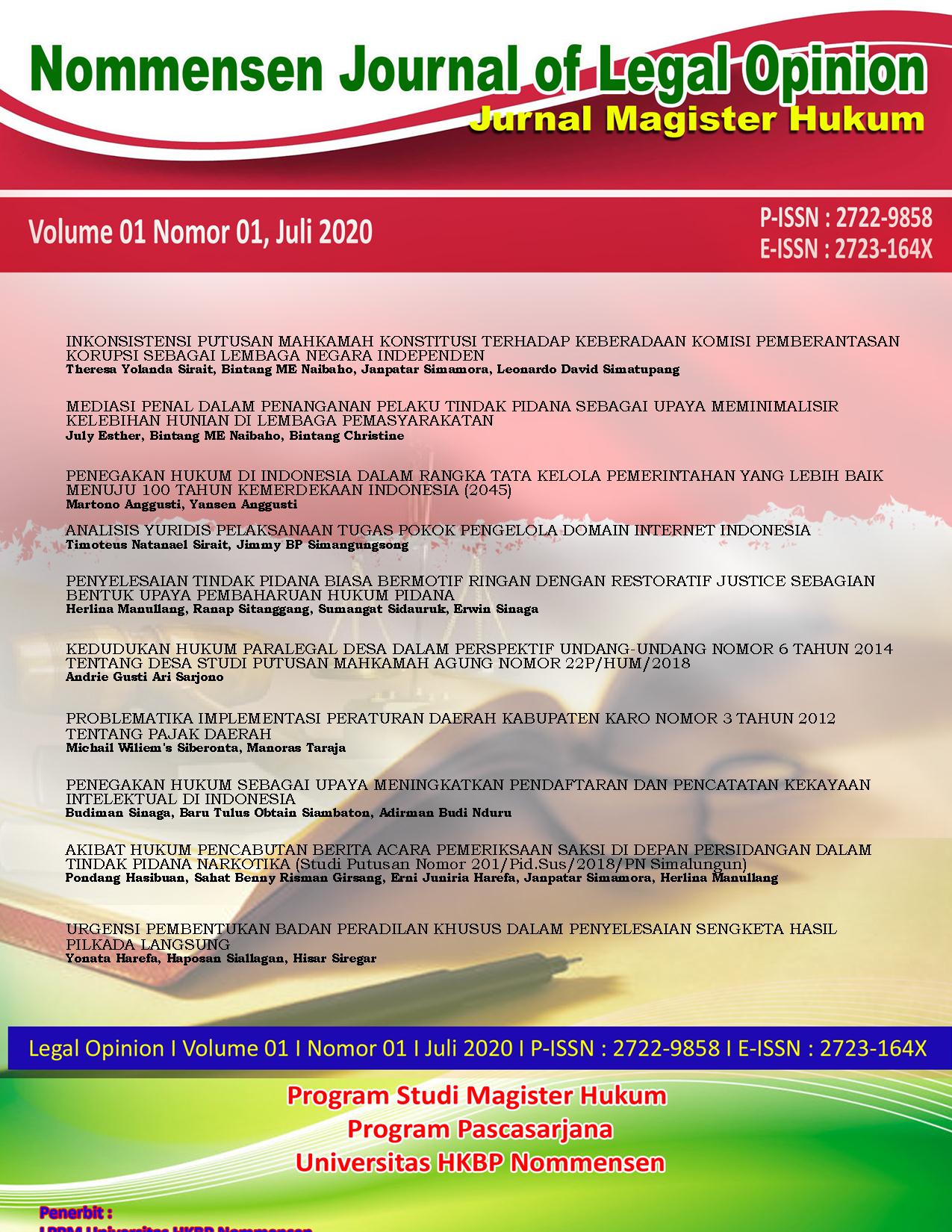 Copyright (c) 2020 NOMMENSEN JOURNAL OF LEGAL OPINION
This work is licensed under a Creative Commons Attribution 4.0 International License.